The reality is as follows – NoFollow links help promote your site on Google. I say this from my personal experience on the topic and also from the testimonials I've seen in various studies online – it's not exactly important, the answer is the same.
You can continue to debate for nights on end whether these links have a direct impact on your site's ranking, but in the end, what's relevant is that NoFollow links from high-profile sites help expose your brand, drive traffic to your site, and even contribute to the overall time spent on your site. These external signals certainly aid in boosting your ranking in search results.
NoFollow links provide website administrators a way to instruct Google and other search engines not to follow these links.
So, like many others, I also feel comfortable stating that NoFollow links help improve your site's ranking in search engines. I'm not saying their influence is direct or particularly strong, but if not a direct impact, understand that the exposure you receive due to these links is definitely worth the effort.
I also add that these NoFollow links help search engines index your site's pages faster and more efficiently. Note that in Google's response on this matter, they claim that they "generally" don't follow these links.
You can gather from this that sometimes they do follow and basically reserve the right to do so. Take a look at the following video – around 2:07 if you don't want to watch the whole thing (you might also want to enable captions in the video):
After I've gotten that off my chest, let's step back a bit and explain what NoFollow links are, what differentiates them from standard links, and even address these links in the context of WordPress sites that we all love.
What are NoFollow links, actually?
NoFollow is an HTML attribute intended for links and serves to inform search engines that theoretically, "this link shouldn't affect the ranking of the linked site," to which you are linking, and I intentionally emphasize this with quotation marks at the start of this post.
This feature came into existence to minimize the impact of spam links and thereby improve the quality and relevance of search engine results.
There are two types of NoFollow. One is through the Robots Meta Tag – if it exists, the implication is that you're asking search engines not to follow any links on that specific page. You need to add this tag to the head of the page, and you can also add it through local settings for the page using the Yoast SEO plugin for WordPress. The tag looks like this:
<meta name="robots" content="nofollow" />
The second is by adding the rel="nofollow" attribute to the link itself, and the implication is, as you probably already understand, to ask search engines not to follow that specific link only. Using this tag looks like this:
<a href="http://www.google.com" rel="nofollow">
Did you know? In the past, there wasn't a convenient way to make a link a NoFollow link, and the only option available to site administrators was to instruct that all links on the page be NoFollow links.
Which types of links are NoFollow?
So, as you probably understood, any link with the NoFollow attribute is technically a NoFollow link. But in general, links coming from the following sources tend to be NoFollow links:
Blog comments – rare are the blogs that allow follow links in comments, which is one of the main reasons the concept of NoFollow links was created.
Social networks (for example, links shared on Facebook).
Forums and user-generated content. There's no real reason to invite Google to follow links like "Register here" or "Login to the system" – places where Google's bots can't reach and crawl. (See video in the comments).
Specific blogs and news sites.
Links from widgets and similar elements.
Press releases.
Unreliable content.
Pay-per-click/advertising links – in order to prevent the impact of paid links on search results, a situation that negatively affects users, these links must be NoFollow links.
Note! Google announced in September 2019 that there are two new types of NoFollow links. One is relevant to user-generated content, and the other is for paid/monetized links.
In any case, if you noticed or not, on many popular sites, the following outgoing links all have the rel="nofollow" attribute:
YouTube
Quora
Wikipedia
Reddit
Twitch
Medium
And generally on most sites of this type.
Where Did the Concept of NoFollow Come From?
Although NoFollow appeared in HTML4 specifications, the concept was not created by W3C but rather through collaboration among three major search engine companies – Google, Yahoo, and Microsoft – along with several powerful blogging platforms during the early days of 2005.
The reason for this was that during the period preceding it, there was a surge of spam comments in blogs, precisely when the popularity of blogs on the internet was skyrocketing. People realized that search engines regarded links as a measure of the linked site's ranking, and unfortunately, people decided that commenting on others' posts with a link to their own site was a quick way to gain higher search engine rankings.
This situation put pressure on those search engines, especially Google, to find a solution. The NoFollow feature is an integral part of this battle, and the underlying thought is clear – if credit is not given for comments, it's likely that people will stop with that spam.
Check any blog you want and you'll find that links in comments are marked as NoFollow links in 99% of cases.
How to Check if a Link is NoFollow?
How can you determine if a link is Follow or NoFollow? For those who are not familiar, you can go to Google Chrome's menu, then Developer > View Source, perform a search (Edit > Find) for the word "nofollow," and see the results as shown in the following image:

Alternatively, you can simply use Inspect Element by right-clicking the link in question and seeing if the tag is present. Of course, you can do this in other browsers as well.
What's the Difference Between Standard Links and NoFollow Links?
As mentioned, NoFollow links are meant to indicate to search engines that the link should not be followed. The implication is that if a certain site links to your site with the NoFollow attribute, it does not pass on Link Equity (or the notorious "link juice") to your site. In other words, theoretically, the ranking of your site will not be directly affected by that link.
The correct approach, by the way, is to add the NoFollow attribute only to links that are not relevant to the current content on your page that the user is viewing. Beyond that, you should also add this attribute to links that people pay you for, which are usually not relevant in the context of the content.
On the other hand, "DoFollow links", also known as standard links, indicate to search engines that they should be followed, and they pass on the coveted link equity. These links serve as an indication to search engines that the content on your site is reliable and high-quality, especially if the linking source has a strong profile.
The most effective way to provide a standard link to a specific site is by adding relevant keywords in the link text (anchor text). These standard links have stronger impact from a search engine perspective if they appear in a context relevant to the link itself (meaning the text surrounding the link is relevant to the link itself).
By default, all links are "DoFollow links," and you don't need to do anything special to make a link like that. Additionally, anchor text does not have special value in NoFollow links, unlike standard links.
Do NoFollow Links to Your Site Harm Your Ranking?
Quick answer? No. NoFollow links won't affect your ranking. However, there's a small scenario that goes beyond the general rule as stated by Google. Imagine a somewhat hypothetical situation where you leave comments on every post on a specific site.
If you do this extensively and in an extreme manner, such that other users are already familiar with you and your comments fall into the category of "annoying" or spammy, Google might take minor actions and treat your link as spam. This is because it's quite clear to everyone that your main goal is to divert traffic to your site through manipulative actions.
Do NoFollow Links from Your Site Harm Your Ranking?
In this case too, the answer is no. Perhaps this was the case many years ago when the concept of NoFollow emerged, but it's not the case today. Google has stated that there are three scenarios where you should use the NoFollow attribute (here are the main use cases, but more on this later):
When you have any commercial relationship with the linked page, meaning links that pay you.
When you didn't create the link yourself, and from this, the link might not be reliable, like comments.
If you're linking to an unreliable site (for instance, when you're providing a "bad" example in your content for demonstration purposes).
In cases where you're linking to administrative pages or similar ones that aren't relevant to the searcher's intent, like privacy policy/terms of service pages and login pages for certain management systems.
There's also a discussion that Google pays special attention to sites where all outgoing links are marked as NoFollow and treats it as a sign of unnatural manipulation that can undermine your page's credibility.
NoFollow Links in WordPress Sites
Unfortunately, WordPress doesn't make it easy to add the rel="nofollow" attribute, at least not at the content level of posts and pages.
In this section, we'll see how to add the NoFollow option to the content editor in WordPress using a plugin. We'll also see how to add NoFollow to links in menus and how to set all page links as NoFollow using the Yoast SEO plugin.
Adding a NoFollow Checkbox to the Add/Edit Link Menu
To add a checkbox that allows you to choose whether the link will be NoFollow or not, we can use a plugin called Rel Nofollow Checkbox. The plugin works well "out of the box" without any configuration.
Install the plugin, go to the edit page of a specific post in the WordPress dashboard, and click the Add Link button. You'll notice that a checkbox has been added right under the box that determines whether the link will open in a new tab.
I don't think this plugin works seamlessly with Gutenberg, the new WordPress editor. However, expect that in the near future, Gutenberg will support adding no-follow and sponsored checkboxes to the link block itself.
Adding NoFollow to Menu Links in WordPress
In order to add the rel="nofollow" attribute to the navigation menu of WordPress, there's no need to use a plugin. Simply go to the WordPress control panel > Appearance > Menus and open one of the links. You'll find a field called Link Relationship (XFN) where you have the option to add the nofollow attribute as shown in the following example: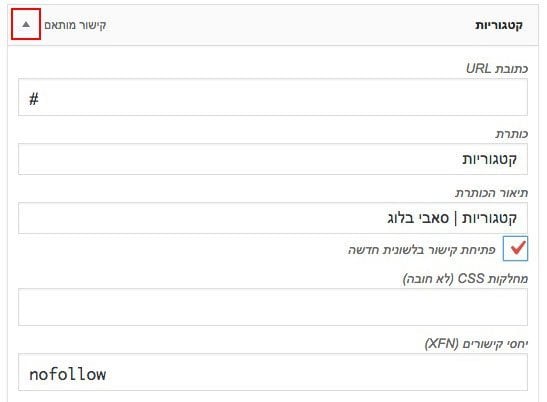 Note – If you don't see this field, you need to activate it using the checkbox in the display options at the top of the screen. In this case, you might also want to open these links in a new tab, and you can enable this option in the display options window as well.

Setting NoFollow for All Links on a Specific Page Using Yoast SEO
The WordPress SEO by Yoast plugin allows you to add the meta tag (Robots Meta Tag) so that all links on a specific page will be nofollow links. The action it performs is exactly the same as shown at the beginning of the guide.
To do this, open the WordPress control panel on the page where you want to do this and go to the local settings of WordPress SEO by Yoast. Click on the Advanced tab and you'll find the option to choose whether to activate the nofollow meta tag on this specific page, as shown in the following example: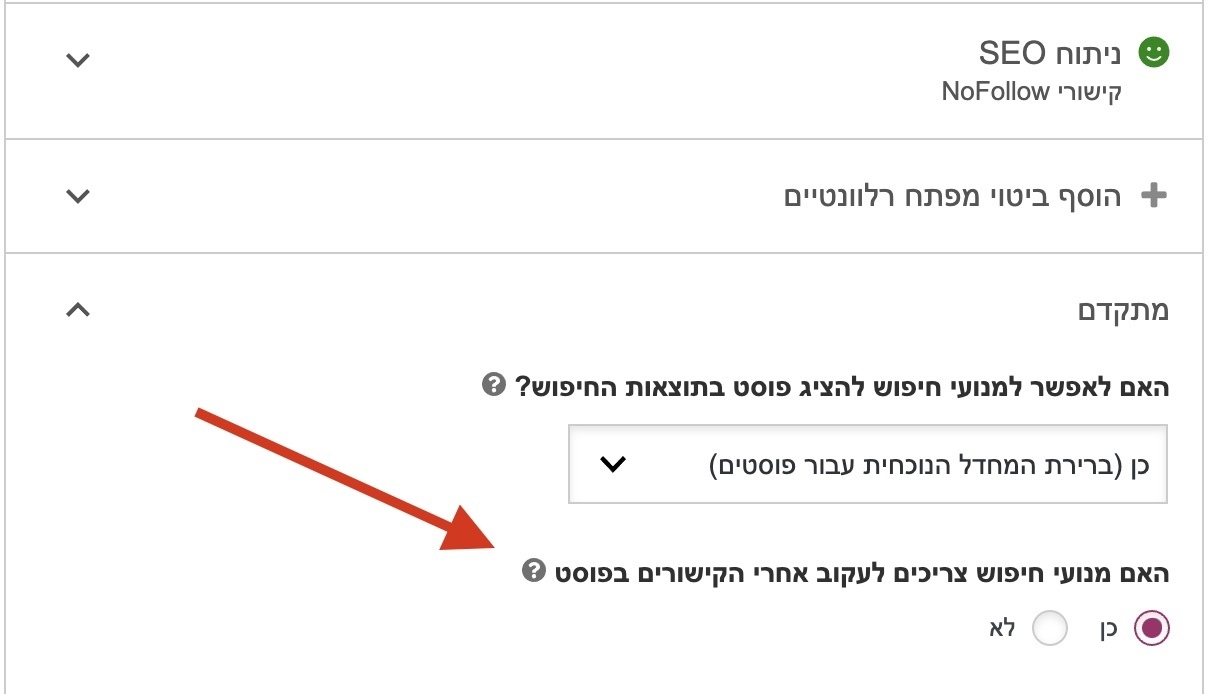 Conclusion
The myth that NoFollow links have no value is not true. In a proper promotion strategy, both types of links, NoFollow and standard links, should be considered valuable. You need to find the balance between NoFollow links and standard links to build a proper link profile, as the true value of NoFollow links lies in their indirect influence:
Exposure – When a link to your site appears on another site, you gain exposure regardless of the link type.
Traffic redirection – Users who find a link to your site on various platforms from trusted sources can lead to targeted traffic to your site, with a higher likelihood of conversions.
Links lead to more links – If one person links to your content, others will do the same. And as exposure grows, you'll start receiving more standard links, which is the ultimate goal of link building.
They can ultimately impact ranking – Perhaps it's more accurate to consider these links as not directly affecting site ranking, but there's evidence suggesting that they do have some sort of influence.
In conclusion, take a look at the image illustrating additional ways to gain promotional value from NoFollow links on the right side:
So the next time you receive a NoFollow link to your site, don't complain or wonder why it's not a standard link. Accept it with love, keep moving forward, and make the most of that link for your benefit.
One more thing – if you're writing a guest post for a blog like this or another, it's appropriate to receive a link that's not a NoFollow link but a dofollow link. If you've worked hard, you deserve it…
In any case, if there are different opinions or thoughts about those NoFollow links, I'd be glad to hear from you in the comments below, from both experienced promotion and SEO professionals… 🙂